So, the garden is SET!  2015 promises to be our best harvest (thus saith every farmer in the history of mankind).  We've had the raised bed gardens for a couple of years now, and this year we decided to get the beds as healthy as possible prior to the first planting.  The beds are absolutely filled to the brim with compost, we've added organic, natural supplements to get the N/P/K levels correct (as well as the pH), and we've made a strong commitment to heirloom seeds this year.
The tomatoes are supported.  The squash, pumpkins, and peas are vining up the trellises.  We've sprayed rotten egg shell solution around the beds to keep the deer, rabbits and squirrels out of the garden.  We have hundreds of gallons of rainwater captured in the buckets (so thankful for friends in the ice cream business).  All of these things, fingers crossed, point to a bountiful harvest.
As a peer-assessed and self-proclaimed nerd, I have of course documented all of the plantings.  Posting it here for all to see the variety of heirloom tomatoes, peppers, okra, beans, corn, radishes, etc. in this year's garden.
Here is a view of the garden, in early spring: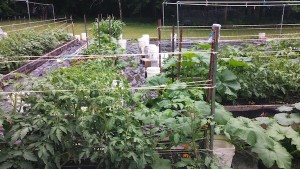 One of my favorite things to do with tomato plants is prune the suckers, replant them, and see how they do.  If you aren't familiar with suckers, here's a brief explanation.  Tomatoes grow as a vine that bifurcates, and occasionally they produce an offshoot between the vines.  These "suckers" are not capable of producing fruit.  They simply take energy from the plant, produce foliage, etc, but with no endgame.  Pruning them makes the plant more productive, as more energy goes into the fruit.  However, pruned suckers may have root stems growing from their stalks, so if you cut the sucker appropriately, you can transplant it into soil and "if" it takes hold, the transplanted sucker will actually morph into a plant that produces fruit.   This is like manna from heaven… a free tomato plant.   This year, I have taken a few extremely large and healthy suckers and transplanted them into containers to grow on our back porch:
Here's to a great year of heirloom goodness!